RELIABLE VENDORS ARE CRITICAL TO THE BOTTOM LINE
A DATEL Case Study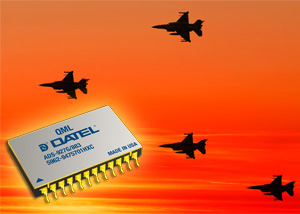 The approved supplier was quoting unacceptably longer lead-times as compared to the prior year, along with increasing unit prices. The end customer - a manufacturer of defense equipment. The item in question was a "mature" analog-to-digital converter that was being used in an ongoing program.
An inquiry went out to the DATEL engineering group. Within days, the DATEL engineering department submitted a proposal for a 100% compatible device and became the preferred supplier for the product. The customer received a component with lower pricing, within a delivery time to meet production requirements. As the customer put it, the DATEL product provided all the benefits they hoped for in a new source, particularly because the previous supplier seemed disinterested in the business.
Shortly after delivering that single A-to-D converter, DATEL engineers were asked to develop four other military-temp microcircuits for the same program.
Sole sourced? In need of a new supplier? We welcome the opportunity to see if we can help.
Submit details of your requirements today.

Further editorial information from:
Tony Khazen
Title: DATEL Business Unit Director
DATEL
Tel: +1-508-964-5251
E-mail: tonykhazen@datel.com
Contact details for publication:
DATEL
11 Cabot Boulevard
Mansfield, MA 02048-1151, USA
Tel: +1-508-339-3000
e-mail: tonykhazen@datel.com
About DATEL (www.datel.com)
Dedicated to the military and aerospace market solutions, DATEL is a business unit of Murata Power Solutions. For several decades DATEL has worked closely with defense and Hi-Rel companies to provide fully qualified and MIL Certified 883 components that meet customers' specific and stringent application requirements.
DATEL data acquisition products are designed and manufactured in an 180,000 square-foot, MIL-PRF-38534 hybrid certified fabrication facility located in Mansfield, Massachusetts, USA. The data acquisition product offering has grown to become one of the industry's broadest, designed to meet the ever-changing requirements of military, HI-REL, medical, scientific and industrial applications. DATEL are ISO-9001 certified, and ITAR registered.