Custom Design & DMSMS Solutions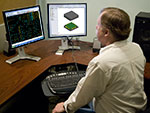 Datel products are engineered and manufactured in our MIL-PRF-38534, ISO 9001:2000 certified facility in Mansfield, MA. With decades of experience in high resolution data conversion, our staff of Design Engineers excel in developing application specific solutions, regardless of the volume or challenges presented.
Obsolescence is not in our vocabulary. If you are looking for a solution to Diminishing Manufacturing Sources and Material Shortages (DMSMS) components, DATEL specializes in replacing and enhancing obsolete microcircuits.
If your program is projected to have long length-of-life, be assured that we are committed to the continuous support of our products.