| | |
| --- | --- |
| Data Acquisition Converters | |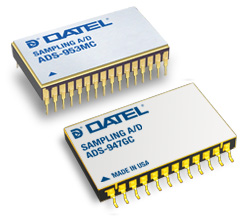 DATEL has been a leader in providing high precision data acquisition components for over 40 years. Our data acquisition products have been recognized for their innovation and reliability in meeting the requirements of the most demanding global markets including military, aerospace, imaging, telecommunications, medical, and scientific industries.
If our standard product offering is not the right fit, our design team can modify an existing product or provide a complete custom design to meet your application's requirements. Our broad range of processing capabilities, technical knowledge and design experience has made DATEL a leader in the Data Acquisition market for more than 45-years. In addition to the products featured here, we offer other converters in cost-optimized versions with lower power and isolation, standard input voltage ranges, optional encapsulation, etc. Contact DATEL to provide a data sheet and other information on these products.
Data Acquisition Product Line
Product
Description
Product Information
Multi-Channel Analog to Digital Converter
12, 14, 16-Bit resolution
Multi-channels A/D in a single package
MIL-STD-883 screening package available
Low power dissipation
Precision Voltage References
-40 to +125°C and -55 to +125°C Operating temp. ranges
Precision ±0.08% max initial accuracy
Input voltage range 3.5V to 16V
Four different grades to cover all market requirements
Analog Front End for CCD Detector
Designed for high-resolution imaging applications
Internal correlated doubler sampler (CDS)
2.3MPPS; 16-Bit resolution
Low cost, functionally complete
Electronic Imaging
12 to 18-Bit resolution
Functionally complete CCD image converters
Sampling rates up to 10 MSPS
Available in SMT Quad PAK and DDIP packages
Digital-to-Analog Converters
Resolution from 8 to 16 bits, BCD input version
Settling times to 20ns, update rates to 100MHz
Through-hole and surface-mount devices
High-reliability models with MIL-STD-883 screening
SMD Digital-to-Analog Converters
12 and 16-Bit Resolution
-55 to +125°C Operating temperature ranges
DDIP packge
Standard Microcircuit Drawing (SMD) models under (DLA)
Sampling A/D Converters
Resolution from 12 to 18-bit
Sampling rates up to 12.8 MSPS
Commercial and military high-reliability
Hermetically sealed products
Manufacturer & tested in our MIL-PRF-38534 cert. facility
Multi-Channel Complete Data Acquisition
Functionally complete
High-reliability models with MIL-STD-883 screening
Multi-channel with differential or single-ended options
SMD Multi-Channel Complete Data Acquisition System
12-Bit resolution
8 and 16 Channels
-55 to +125°C Operating temperature ranges
Standard Microcircuit Drawing (SMD) models under (DLA)
Analog-to-Digital Converters (Legacy)
12-Bit resolution with parallel and serial outputs
Traditional SAR A/D converters
Surface-mount versions
High-reliability models with MIL-STD-883 screening
SMD Analog-to-Digital Converters
12-Bit resolution
-55 to +125°C Operating temperature ranges
Hermetically sealed products
Manufacturer & tested in our MIL-PRF-38534 cert. facility
Standard Microcircuit Drawing (SMD) models under (DLA)
CMOS Flash A/D
True Flash Analog-to-Digital converters
No latency delays
Edge triggered conversion
Ideal for burst mode applications
Sample and Hold Amplifiers
Accuracies from 0.01% to 0.0008% (12 to 16-bit equivalent resolution)
Acquisition times to 25 nanoseconds
Small-package sizes from 8-pin SMT, CLCC, etc
COTS and high-reliability models, MIL-STD-883 screening are available
Multiplexers
4 and 8-Channel single-ended models
Fast settling times characterized for 12/14/16 bit equivalent accuracies
Small, 14-pin and 24-pin DIP or SMT packages
High-reliability models with MIL-STD-883 screening
Amplifiers (Legacy)
High-speed, wideband operational amplifier
0 to +70°C and -55 to +125°C Operating temp. ranges