ADCDS-1603 Imaging Signal Processor Provides High-Performance Functionality, Simple Interface, for a Complete Solution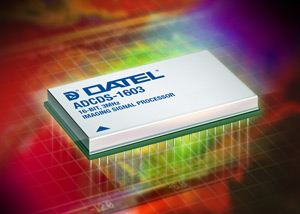 16-Bit, 3 megapixels/second imaging signal processor
October 10, 2006


16-bit resolution
3MPPS throughput rate (16-bits)
Functionally complete
Very low noise
Excellent signal-to-noise ratio (85db)
Edge triggered
Small, 40-pin, TDIP package
Low power, 500mW typical
Low cost
Programmable analog input bandwidth





DATEL has introduced the first Imaging Signal Processor to combine true 16-Bit resolution with 3 Megapixels / second (MPPS) performance. The ADCDS-1603 provides an easy-to-interface, functionally complete, low-cost solution for electronic imaging applications that use Charge Coupled Devices (CCDs) as their photo-detectors.
Typical applications for the high-performance ADCDS-1603 can be found in Digital Still Cameras, Digital Video Camcorders, portable CCD image devices, plus a wide range of medical and industrial imaging products.
The ADCDS-1603 has a class-leading signal-to-noise-ratio of 85dB at 3MHz with no latency delay. The small, fully integrated 40-pin TDIP package incorporates a user configurable input amplifier, a correlated double sampler (CDS), and a 16-Bit sampling analog-to-digital converter (ADC). Further features of the user-friendly design include edge triggering, gain adjust, offset adjust, a precision +2.0V reference and a programmable analog input bandwidth function. Overall power consumption is just 500mW typical.
Central to the ADCDS-1603's high performance is a unique high-speed, high-accuracy, CDS circuit that eliminates the effects of residual charge, charge injection and kT/C noise on the output capacitor of the CCD. This produces a 'valid video' output signal that the ADCDS-1603 digitizes using its integral high-speed, low-noise sampling ADC.
Two variants of DATEL new Imaging Signal Processor are available: The ADCDS-1603 is designed for commercial applications and has an operating temperature range of 0ºC to +70ºC, while the ADCDS-1603EX has an operating temperature range of -55ºC to +125ºC making it suitable for military and more demanding commercial applications.